Fixing an Aging Pipeline Problem
According to the American Gas Association, the natural gas industry operates 2.5 million miles of distribution and transmission pipelines nationwide to provide service to more than 177 million Americans. We own and operate nearly 28,000 miles of pipelines in Michigan to serve much of the Lower Peninsula.

Damage to a natural gas system is often beyond an energy company's control. Dig-in damage by contractors, extreme temperatures and heavy vehicles can put underground systems at risk. Aging bare steel and cast-iron pipes also are more susceptible to rust and corrosion, making them more prone to leaks.

To boost safety and reliability, we are working to replace pipes made of cast iron, bare steel and other vintage materials – much of which date back to the 1940s – with plastic and flexible steel that will last longer and be more resistant to damage.

But replacing vintage natural gas pipelines is often tricky. Many are under the pavement in densely populated areas and crowded rights of way. Throughout our statewide, multi-year pipeline replacement effort, we'll remain laser-focused on working safely, improving our communications with customers and protecting our environment.
Working safely
Many of our natural gas safety efforts include: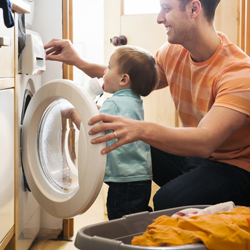 Factory-testing all natural gas pipes to ensure they meet national safety standards and our own.
Deploying our cathodic protection program, which uses a low-voltage electric current to help reduce or eliminate corrosion.
Limiting dig areas by using high-tech "smart pigs" to locate breaks in protective pipe wrap, dents and other small internal vulnerabilities.
Conducting ground and aerial surveys to check 2,550 miles of above-ground transmission pipelines at least twice a year.
Responding to more than 300,000 MISS DIG 811 requests each year to mark pipeline locations so excavators can dig safely.
Continuously monitoring a computer system that alerts us to any abnormal pressures or flows in the gas system.
Training field crews to maintain pipelines and respond to problems.
Responding promptly to gas emergency calls.
Connecting with neighbors to help them identify pipeline problems through our Pipeline Protection Awareness program.
Connecting with Customers
By their very nature, natural gas pipeline replacements can be disruptive. Neighborhood streets and streetscapes – even customers' properties – can be impacted. We work to minimize disruption and leave the area better than we found it, including:
Communicating directly with customers and communities in project zones about possible impacts in advance of the work.
Aligning pipeline upgrade work, when possible, with other upgrades in the area, such as road construction, to deliver a "one-and-done" approach.
Considering impacts to major community activities and adjusting plans when necessary.
Replacing aging distribution main pipes and services using a new grid-based approach to do the job faster, more efficiently and with less disruption.
Using underground directional drilling in 90% of pipe replacements rather than open-trenching methods to minimize disruption.
Restoring neighborhood streets and customers' properties as quickly as possible following pipeline replacements, weather-permitting.
Protecting the environment
It's only natural to think the scale and scope of our service territory and investment work could negatively impact the environment, so, we go out of our way to make sure we're protecting the wildlife, plants and habitats potentially affected before we start any project.
A great example of this environmental commitment occurred along the Saginaw Trail natural gas pipeline replacement project route. During environmental impact evaluations, we discovered
12 Blanding's Turtle eggs
– a rare turtle species in Michigan – and removed them from the project's construction path. A contracted herpetologist cared for them until they hatched and could be safely released back into their home after work was completed.
Keeping natural gas safe, affordable and flowing reliably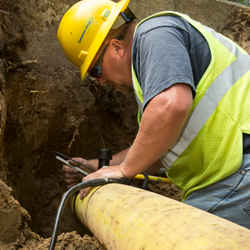 We provide natural gas to over 1.8 million people in 45 of Michigan's Lower Peninsula counties. Many people are counting on us to protect them, their communities and the planet we all share. And we're up to the task.
Our 10-year, $11 billion Natural Gas Delivery Plan is a key component of our
Clean Energy Plan
. Both will help combat climate change by reducing emissions on our way to net zero emissions by 2050. Since 2018, we've invested about $1 billion annually to modernize our system — a commitment we plan to continue in the coming decade. Through year-end 2021, we've replaced nearly 600 miles of aging pipe, including 232 miles of cast iron and over 58,000 services.
Large-scale, multi-year natural gas transmission projects, each spanning multiple counties, will upgrade infrastructure that moves gas throughout the natural system. During this process, we also add an odorizer and compress what's in the system for distribution to homes and businesses.
We're modernizing our natural gas infrastructure and operations to improve safety, operate more efficiently, improve reliability and protect the planet. Beyond the natural gas transmission and distribution lines we operate and maintain, customers also benefit from a unique feature in the state – underground limestone pockets. As the nation's most extensive underground storage system, our system's storage and compression portion is comprised of 15 fields and nearly 1,000 storage wells, totaling 309 billion cubic feet ("Bcf") of gas storage capacity.
Providing energy services to the customers and state we love has been a privilege for the last 135 years – and will be for many more. Our commitment to being a force of change in all aspects of our business is driven by our desire to keep communities safe and customers proud to call us their energy company.