The Next Level of Hands-On Learning: Flint Gas City Provides Real-World Training to Natural Gas Teams

Bright green grass grows across neatly manicured lawns. There are picket fences, wide front porches and freshly paved streets.

But this is not your average new neighborhood.

The homes that line Power Parkway are part of Flint Gas City, a new training center that will help us continue to safely deliver natural gas to our neighbors across the state.

Situated about two miles from downtown Flint, this city within the city, has all the trappings of a modern neighborhood. Complete with small homes, an apartment building, streetlights, and yards, it takes hands-on training for natural gas teams to the next level.

It will serve as a key training site for more than 1,500 employees who build, maintain or operate our natural gas infrastructure, and will also be used to provide natural gas safety training to first responders.

"Up to this point, we've relied on procedures, lectures and on-the-job training to get our employees prepared to perform work in the field," said Gwen Holman, manager of learning and development for Gas Technical Training. "With this opportunity, it's going to allow our learners to go through real-life scenarios like we have at Flint Gas City."
Building a City from the Ground Up
The hands-on training this small city provides has been the dream of our instructors and Technical Training Director Stacey Lamb, but it got its start following a visit to an American Gas Association conference, where an energy provider was using a similar concept for training natural gas workers. What followed was years of planning and preparation.

"My first thought was 'What an amazing opportunity for our gas operations employees to learn their tasks in a simulated training environment,'" said Holman, who has worked on the project since its beginnings. "To have a real-life neighborhood to do their scenarios in is going to be amazing. I was excited at the opportunity to enhance learner experience."

In October 2021, we broke ground on the 1.4-acre state-of-the-art training site that includes functioning pipelines, meters and other natural gas infrastructure. It was developed in partnership with the Michigan State Utility Workers Council and involved a broad range of teams across our organization including the gas technical skills team, gas operations, safety, information technology, facilities and many others.

Holman said it was incredible to see so many groups come together to build Gas City from the ground up.

There is a control system where instructors can create natural gas leaks on the site for learners to work to detect. There are also pipe construction and maintenance areas that run on compressed air.

No detail was missed – including a "Flint Gas City" arch that pays tribute to the original "Flint Vehicle City" version downtown. In April, the teams who worked together to build Gas City started testing its future training simulations. Holman said it was one of her favorite parts of the project.

"To see the gas instructors build the props and test all the leak scenarios was a joy for me," she said. "It's really going to change the way we train our employees and we're really excited about that."
A New Foundation for Natural Gas Training
Gas City, located at the Flint Service Center, is designed to provide fully immersive training in a multitude of scenarios teams often encounter in the field.

It includes a neighborhood of small homes with working appliances, a simulated apartment building, a commercial and industrial area, regulation station and more.

There are areas dedicated to training in installing new natural gas pipeline, performing city gate work, maintenance and corrosion monitoring and locating and staking underground lines. Teams can learn how to perform work while keeping natural gas flowing for customers, so they don't experience service interruptions. They can also practice safely responding to natural gas emergencies, including leaks and fires.

Holman said the safety of our teams, instructors and especially our customers, has always been a top priority. Every precaution has been taken at Gas City to keep learners and instructors safe while they work through scenarios that will help teams ensure the safety of our customers.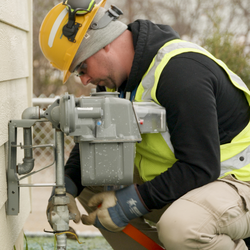 "We've gone above and beyond to make sure not only are our learners safe, but also our instructors," Holman said.

The site has seven dedicated instructors, committed to helping natural gas teams learn how to work safely and efficiently in the field. The Gas Technical Training team thoroughly reviewed our training curriculum to make updates and ensure the majority of time was spent outside the classroom doing hands-on learning.

"Out here, it's about as real as it is," said Josh Sturgis, a senior technical instructor with the Gas Technical Training team, who primarily supports natural Gas Construction. "Being able to see what you're going to encounter in the field before you get there from a facility like this is a huge benefit."

Sturgis said teams will leave Gas City feeling more confident in their skills after learning in a real-world environment that helps them recognize safety hazards, practice customer interaction and more. "We don't train until we get it right, we train until we can't get it wrong, and this is the place to do that," he said.

The training that teams will receive at Flint Gas City is "invaluable," said Tobin Schalk, a senior technical instructor with the Gas Technical Training team.

Many employees are hands-on learners, so getting them out of a classroom helps take training to the next level when they can experience it firsthand.

"Customers should have that much more confidence in our employees because they've seen it. They've physically gone through it, and they've gone through it with experienced instructors," he said. "We're taking that extra step to ensure they're getting the best-possible training in a controlled environment."

Through training at Flint Gas City, learners will be able to experience field processes from start to finish, receiving orders electronically, heading out to the field to perform investigations or work and closing the job out when it's done.

"Flint Gas City is an experience," said Chris Green, a senior technical instructor with the Gas Technical Training team, who supports gas distribution. "It's something we've been looking forward to for a long time. Everything is as real as possible."

The site is also expected to have visits from Flint-area students including those at the nearby Mott Community College, to help spark interest and future careers in the energy industry.

Holman said seeing Flint Gas City transform from concept to reality has been amazing.

"To see it become a reality is unbelievable," she said. "I love being part of this amazing project and to know all the work we put into this will make our employees safer in the field, improving our customer experience."