As his company vehicle is pelted with ice the size of golf balls while cautiously navigating a desolate country road, Cleveland Reid gets in the right frame of mind for his next job.

When Reid, a lineworker out of Norton Shores, arrives at the scene of a downed wire, he begins channeling his energy into the physical aspect of the job. He first finds a safe place to park and turns on the flashers. Next, he puts on the proper personal protective equipment (PPE) and places cones and roadside signs to make it a safe work zone for the crews and public.

Reid makes sure there is no one near the wire, including other employees, and warns them away if there are. Then he gets to work.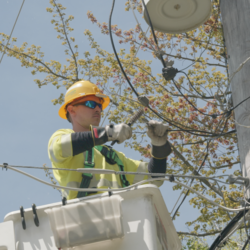 The first step is checking if the line is energized. For a primary line, this starts with the Load Concentration Point (LCP). The device operates like the light switch, opening when it detects a faulty current from a downed line or other interruption to stop the flow of power.

Lineworkers use mapping system to locate the LCP, staying in close contact with dispatch to make sure they have the right substation, circuit and LCP for the job.

"Sometimes if the line is down, the LCP doesn't open like it should. The line could be arcing and on fire, but it just as easily could be live with no visible signs," said Reid, adding the LCP can be as close as 200 feet or as far as a few miles away. "If this happens, I have to go up in the air and physically open the switches to de-energize the line."

If the LCP is open the line should not be electrified, though this is verified through other means. While he's working, he will always wear PPE as if the line is live as an extra safety precaution.

"If it is a secondary line causing an outage, we ensure the transformer on the line is de-energized. Many times, it's not. At that point, I have to decide to de-energize the line or cut the secondary jumpers that ground the line," he said. "My decision is based on what is safest, then how we can keep as many customers on as possible."

This scenario is just one of many that lineworkers face when restoring power. Their job also includes repairing or replacing equipment, identifying hazards, answering customer questions and even some forestry work. "As lineworkers, we do a ton of tree trimming ourselves," he said. "Sometimes even removing large limbs and full trees off our lines under extreme tension so we can do the work. We need to make sure we are 'in the moment' since it's one of the more dangerous aspects of our job."

Regardless of the task, the most important way they stay safe is communication. Before, during and after the job, lineworkers stay in constant contact with employees on site, dispatchers and other nearby crews to make sure everyone knows what is happening and are on the same page.


Continuous Improvement
"For every storm we know there are experiences that help us improve," Reid said. "It's about adjusting and being flexible in how we attack storms. Everyone from dispatchers, lineworkers, wire down guards and public safety has the same goal: to restore customers' power in the safest most efficient way possible."
And when lineworkers aren't battling Mother Nature, they are dedicated to improving reliability with new poles, line equipment, cutout switches, cross arms and installing and maintaining emergent technology such as
Automatic Transfer Reclosers (ATRs)
.
"Starting with the training we get as apprentices to the advice we pass down to other apprentices, everything we do is with the customer in mind," Reid said.
Reid's path to a lineworker started with four years training through our
Apprenticeship Training program
at Lansing Community College before completing his courses with hands-on experience at our Marshall Training Center.
"It was four years of intense, but gratifying training that shapes us into the lineworkers that we are today," Reid said. "I wouldn't change it for the world. This is my dream job that I am lucky enough to report to every day."