Before the sun even rises over Lake Huron, Solon Gray has started his day.

By 4 a.m., he's talking to his team and covering observations from the overnight shift at the Dan E. Karn Generating Plant outside Bay City. He doesn't mind the early-morning hours.

"It's the best job I've ever had," said Gray, a production supervisor at the plant, who started in 2019. "I go in and I help out and it's worked out well."

The plant, which opened in 1959 under what was then Consumers Power, has provided power to millions of Michiganders during its more than six decades of service. In June, its two coal-fired units will be retired in the transition to clean, sustainable energy.

Gray is among team members helping to power down the coal-fired units safely and successfully, as we advance toward a future focused on powering Michigan with renewable energy resources. We will be among the first energy providers to provide electricity without the use of coal by 2025.

"I have two grandkids that probably will never know what a coal plant was," said Ken Des Jardins, a maintenance manager who started at Karn in 1977. "In the past, it was needed. It was the cheapest way to make power at that time. But times have changed. In order to clean up our environment, we need to get out of the coal business."
A Coal-Free Clean Energy Future
We're dedicated to providing safe, reliable energy to our neighbors across Michigan. We're also committed to making sure the natural resources in our beautiful state are protected and preserved for generations to come.

That's why we developed a landmark Clean Energy Plan that acts as a roadmap in our shift away from coal and fossil fuels, while still providing flexibility to meet the needs of those we serve.

As Karn's two coal-fired units shut down this year, three coal-fired units at the Campbell generating complex near Holland will be the next to retire with plans to power down in 2025.

Since 2016, seven coal-fired units across the state have been retired including those at the Weadock Plant adjacent to Karn, the Cobb Plant in Muskegon and the Whiting Plant in Luna Pier.

Karn received its last shipment of coal by boat in December and will receive its last load of coal by train in May.

With the transition away from coal, we're expanding our focus on providing reliable and affordable energy from sustainable sources. It's our goal to have 90% of the energy we provide coming from renewable sources, such as wind and solar power, by 2040. While the retirement of Karn's coal-burning units represents one more step in that journey, we still have much more to accomplish. As we work to build up our renewable energy resources, we will help meet Michigan's energy needs by generating power from natural gas-fired plants.

These steps will have a positive impact for our communities and our planet, reducing carbon emissions by 63 million tons between 2023 and 2040.

While Gray said he feels the loss of the plant, he understands the need to explore more sustainable energy resources.

"There's more to come," he said.
Honoring the History of Energy Powerhouse
The plant, named for the company's former President Dan E. Karn, began operating on a 2,400-acre site on Lake Huron's shore in Essexville 64 years ago. It was ideally positioned, with access by road, rail and freighter.

Naming the plant after Karn, honored a leader who spent more than 45 years helping power our communities and advance energy innovation in Michigan.

Karn's grandson, Dan, said his grandfather's humble, hard-working nature was inspiring. He kept a portrait of his grandfather and picture of the plant bearing his family's name hanging in his aircraft maintenance business.

The large scale the plant operates at is impressive.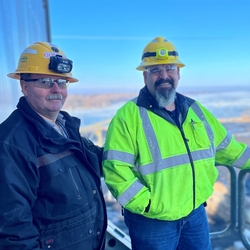 "I'm really proud of what he did," said Karn, who worked for the company on overhead lines before starting his own business.

When it opened, it produced 530,000 kilowatts of electricity, which was enough to supply energy to about 500,000 homes. Today, the plant's two coal-powered units and two powered by natural gas and oil, produce a combined 1,791 megawatts that can support 1.3 million customers.

The plant's fuel-handling crew can move up to 750 tons of coal per hour to keep boilers burning and power flowing.

But much also has changed since the plant opened. Coal dust and ash are tightly controlled, and each stack includes enormous pulse jet fabric filters that hold more than 10,000 bags to filter gas and particulate before it is released.

Tim Gunsell, a maintenance supervisor at Karn who has been with the company since 2016, said working at the plant has given him a greater appreciation for what it takes to power Michigan's communities. He said on a typical day, he hits the ground running at 6 a.m. to touch base with the plant's teams and find out whether anything needs to be repaired. He said he has often volunteered for weekend responsibilities because of the great experience it offers.

"It's amazing to me what is involved to produce electricity," Gunsell said. "I had no idea when I started here how intense it really was. I always took it for granted that when I needed electricity it would be there."
A Plant with a Place in the Community
The plant's silhouette along the shoreline is distinctive. It's one that has served as a marker for mariners and it has been a landmark for Bay City area residents.

"I grew up in the area, so I could see the plant from my backyard across the bay," said Sean Kelly, manager of plant operations at Karn. "I looked at it as a navigational beacon and as I grew and became an employee here, it definitely gave a different perspective."

Others grew up in awe of the plant and curious about its powerful role providing energy to the community.

"I remember standing on the pedestal next to the turbine generator and feeling the vibration tickle my feet," said Keith Grzegorczyk, an electrical engineer at Karn, who became fascinated by the plant after taking a tour of it with his second-grade class.

He remembers being proud to walk across causeways stories above the ground, the comfort in recognizing familiar faces from the community and feeling delighted by the grit at the heart of the plant. "I was thinking 'This is where I want to work when I grow up,'" said Grzegorczyk, who started at Karn in 2006.

He has enjoyed the physically demanding work, including crawling into large transformers and generators for inspections.

"Karn will remain my inspiration to get my hands dirty. To go and see where others don't want to go," he said.
Next Steps for Karn
Though Karn's two coal fired units will close this summer, its two other units powered by natural gas and oil will continue to operate through 2031.

"We're looking for our team to finish strong in this process as we transition out of coal and into renewables and yet still sustain energy for our customers," Kelly said.

We're committed to a considerate transition for both our team at Karn and for the community. As the plant draws down its workforce, we're focused on finding roles for those who want to stay. Many are moving on to work in other areas of Consumers Energy, continuing to help provide energy to our Michigan neighbors. In the meantime, the remaining team has kept their focus on making sure the facility continues to run safely and reliably as operations wind down.

"We have a good team of people here that are helping support that glidepath to success," Kelly said.

Future use of the site is being studied and local leaders have been an important part of the conversation around next steps, which could include potential green space, solar, agriculture or commercial use. The plant property is already home to a diverse array of wildlife, including eagles, deer and fish, and once the units close, we will be dedicated to making sure we leave the site better than we found it.

Des Jardins is proud of his career and what he's been able to help accomplish. He knows he'll be able to share that with his grandchildren, along with many photos of his time at the plant.

"I thought it would be a really neat way to end my career," Des Jardins said of being among the team to help retire the coal-fired side of the plant. "I'm going to close down the place I started out and worked at least 31 years."

"It's just a lot of sentimental value and I loved the opportunity to be part of that."