Michigan Students Focused on Robotics: Consumers Energy Invests in STEM
No matter where we come from, what we've seen or where we've been, we can all agree on one thing: Robots are really cool. 
We may be an energy production and distribution company, but today we want to talk to you about high school robotics competitions. Why?
First off, they're incredibly fun to talk about, and even more fun to attend. But secondly, we value a strong education for Michigan's students. That's why we invest in STEM programs (science, technology, engineering and math), such as robotics, to help expose kids to opportunities for future careers and areas of passion to explore. 
After all, today they may be building robots, but tomorrow they could be leading the clean energy transformation in Michigan. 
Why invest in STEM? 
As we focus on a clean energy future, we also need to invest in a robust talent pipeline and help ensure prospering economic development in our Michigan communities. This is no small feat. 
We recognize there is still a ton of work to do here, and we need help to accomplish these goals. So we started looking to the next generation of engineers and scientists for guidance and inspiration. Current high school students will be the ones to continue our clean energy mission. They will be the ones reimagining the energy infrastructure or designing the latest electric vehicle hitting the streets.
In our eyes, supporting STEM in Michigan schools is a win-win. Students get access to cool opportunities, like robotics competitions, and we get to showcase Consumers Energy to the top talent of tomorrow. We need STEM talent in the coming decades to fill a wide range of jobs, including scientists, line workers, mechanics, plant operators, engineers and more. 
Robotics isn't just for coders or future engineers, as there is so much more that goes into the competition than the actual build. Students learn to challenge themselves and each other as they problem solve and work together as a team. After the build is finalized, the team must use business skills to market the product they created.  
As you can see, we aren't just investing in cool robots; we're investing in future employees, future innovators and the future of Michigan. 
Our Main STEM Initiative: FIRST in Michigan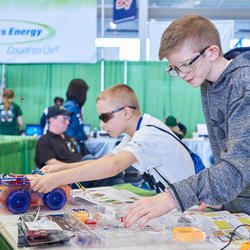 FIRST in Michigan (known as FiM and part of the international FIRST organization: "For Inspiration and Recognition of Science and Technology") leads the robotics season for high school students that combines the competitive spirit of varsity sports with the knowledge and know-how of a science fair, then takes the whole concept to a completely new level. 
Teams get together to design, build, program and market a commercial product, just like in the real world. Throughout the process, they get to sample different STEM fields to discover the one (or ones!) they are most passionate about.
Industry experts mentor teams along the way, which is where Consumers Energy comes in. Employees from across the state dedicate hundreds of hours every year volunteering as team mentors and serving as judges on competition days. 
Plus, with enough hard work, teams might end up at FiM's State Championship, sponsored by Consumers Energy, where students get to show off their skills as they battle in a fierce 3 vs. 3 competition. How cool is that?
FiM is one of our favorite initiatives because it gives our team members the chance to bond with students over their shared passion of robotics and STEM. The heart of the Consumers Energy Foundation is in building these connections while leaving a lifelong impact on younger Michiganders.
Currently, FiM programs are in about 30% of Michigan's school districts. (For the record, any school is welcome to join and make their own team!)
How do robots relate to energy production and distribution? 
We depend on STEM talent to innovate, engineer, anticipate and respond to challenges now and in the future. 
Over the years, we have invested in robotic technology that allows us to perform more efficiently and keep our workers safe. In order to create these systems, we needed engineers to automate and code the machines and be on the backend to ensure everything is working properly. 
Here are a few of our favorite robots we use to keep our workers safe. 
Supporting the future of STEM 
Starting from elementary school all the way through high school and beyond, we want to support students' passion for STEM. Michigan is home to some amazing talent and outstanding students.
It's our goal to support the next wave of engineers, programmers and innovators in Michigan. Our investments into technology have gotten us this far, but we need a generation primed and ready to carry us further into the future. 
Join in on the fun of robotics by checking out the FIRST in Michigan programs happening in your school district!