Driving an EV? Consumers Energy Places Charging Stations Around the Mitten to Power Your Michigan Road Trip
Within the Michigan communities we serve, there are around 15,000 electric vehicles (EVs) on the road. By 2030, projections show that number will increase to 1 million. For the math nerds out there, that's around a 6,566% increase!
Every year, more drivers are making the switch to eco-friendly EVs to zip along with instant torque while saving money on maintenance and ever-increasing gas prices. These drivers need access to reliable and affordable charging at home, at work and on the road. As an energy company, we play a clear role in making it happen.
If you own an EV now or are considering one in the future, we are ready to help by answering your biggest EV questions and providing an inside look into our efforts to bring Michigan into the future one mile at a time.
How do electric vehicles work?
Electric vehicles are powered by a battery and an electric motor rather than an internal combustion engine. When you drive a traditional gas-powered car and notice you're running low on fuel, you stop and fill up the tank. With electric vehicles, you simply plug in your vehicle when you get home at the end of the day and let the battery charge overnight, just as you would with a cell phone. Then, when you wake up the next day, your car will be ready to roll.
An overnight charge provides plenty of juice to tackle most daily commutes and errands around town. Many businesses throughout the state are also installing chargers that allow you to charge while you're parked.
What does an EV road trip through Michigan look like?
But what about those long road trips or vacations away from home? For many drivers, the idea of traveling long distances in an EV is intimidating, but with our new fast chargers a little bit of planning is all you need.
A typical all-electric vehicle currently has an average 250-mile range on a full charge - the equivalent of driving from Muskegon to Mackinaw City. Which means somewhere on your four-hour drive, you'll want to stop and charge.
Consulting our map of fast chargers - which fully charge your car up in around 30 minutes - you'll find chargers at a convenience store in Cadillac, around 110 miles into the trip. It's a great time to stop, stretch your legs, grab some snacks and take a few calls before continuing on to your destination, another 143 miles up the road.
Then, in Mackinaw City, book one of the hotels with a Level 2 charger. Some hotels require an extra fee for using EV chargers while others offer the service for free. It's best to call ahead to confirm the cost in advance. Once you have found a charging station midway and a hotel with a charging station out front, you're ready to roll.
If you accidentally pass up Cadillac or take a different route, or the charger is being used by another driver, you can always consult crowdsourced apps like PlugShare or ChargePoint to locate non-Consumers Energy chargers locally. These apps will even show how many chargers are available at each location and whether they're in use or available to help with last-minute charging decisions.
As EV use increases, chargers will become just as common as gas pumps, giving drivers the convenience of charging as easily as they fuel up on a road trip today.
How does Consumers Energy support EVs in Michigan?
In our service area, EVs are experiencing a 70% year-over-year growth. We're proud to support EVs as part of our Clean Energy Plan, which aims to phase out coal and shift to 90% renewable energy resources to become carbon neutral by 2040. Our goal is to power the 1 million EVs we expect to see on Michigan roads in 2030 and take on the increased electric demand from charging.
We have already helped install over 1,600 EV chargers at homes, businesses and along roads across the Lower Peninsula. The majority of these chargers are residential, but over 200 are classified as Level 2 and can be found at traditional public locations like gas stations, convenience stores and parking lots.
In addition to our public Level 2 and residential chargers, we've also already installed 36 "DC fast chargers" around Michigan that can power an EV battery in a half hour, making road trips a breeze.
The next step is to increase public capacity for EVs. Our goal is to add 100 more public Level 2 chargers in hotels, grocery stores, campgrounds and other businesses and 100 new fast chargers along major travel routes in the next two years.
The public chargers are privately owned by home or business owners, who receive rebates and pricing guidance based on our Michigan Public Service Commission-set rates. They also determine charging costs. Many Level 2 charging stations are free right now, but not all.
There are other perks to having a charger, too. Business owners can leverage charging stations to attract EV drivers as customers. And residential charger owners have the convenience of charging at home along with the low-cost payment options through our PowerMIDrive and Bring Your Own Charger programs.
Michigan electric vehicle FAQs
Below, we've rounded up some commonly asked EV questions from Michiganders.
• How many public charging stations are in Michigan today?
According to the U.S. Department of Energy, there are 1,079 public charging stations available for use in Michigan at the time of publishing.
• Why are EVs more expensive?
If you look at the cost of purchasing an electric vehicle in comparison to a gas-powered vehicle right now, you would be correct in that the EV is a little pricier up front. But many new EVs are still eligible for a $7,500 tax credit, and there is additional legislation being considered to help ease prices on a federal and state level.

Additionally, if you move beyond purchase price and factor in long-term ownership costs like gasoline and maintenance, EVs come out on top. Electricity is cheaper than gas and EVs don't require oil changes. In fact, with fewer moving parts, they need only around 40% of the maintenance of a traditional gas vehicle.

The good news is this entire comparison may end up obsolete by 2025. That's the year many experts expect purchase cost parity between EVs and traditional cars.
• How much do EV stations cost?
The cost of an EV station varies depending on several factors, most notably where the charging station is located and what type of charge it provides.

With public chargers, the station host gets to define cost. Many public Level 2 charging stations are free right now, but not all. That being said, the graph below shows the average cost of each power source per 50 miles of charge.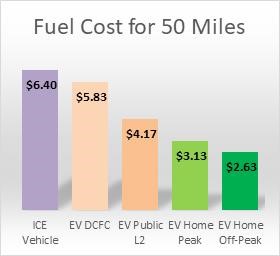 The absolute cheapest option is at-home charging during off-peak hours. We give preferential energy rates when demand is low, starting around 11 p.m. until 6 a.m. You can set a timer on most home chargers so you can park and plug in when you arrive home, and the charger will start fueling at the appropriate time and stop when full. Our rates are designed to encourage this charging window when overall electric demand from homes and businesses is lowest

Another affordable option is charging at home outside of the 11 p.m. to 6 a.m. time block. Then, public Level 2 power stations are slightly more expensive, mostly because these prices are controlled by station hosts. Finally, direct current fast chargers (DCFC) are the most expensive option for charging as you're paying for the convenience of a shorter charging time—but they're still cheaper than gas for an Internal Combustion Engine (ICE vehicle).

EV charging has generally remained cheaper than gas in many areas of the U.S. A study conducted back in 2018 by the University of Michigan found EV fuel costs to be half the price of traditional gasoline. This certainly remains true with the abnormally high gas prices we're experiencing now in 2022
• How long does it take to charge a car on a road trip?
Right now, it takes around 30 minutes for our fast chargers to charge your electric vehicle. Once filled, most of the latest EV models average around a 250-mile range before requiring another charge. Just like a gas tank, you can fuel for what you need to complete your trip if you don't want to wait for a full charge.
• What happens if your electric car runs out of battery?
Have you ever run out of gas in your current car? If the answer is no, you aren't likely to run out of charge in your electric car either. Just like a fuel gauge, EVs have a battery sensor that will let you know in advance when it's time to juice up. And if you can't find a fast charger nearby, you can always check crowdsourced apps or conduct a good old-fashioned Google search to find the nearest public Level 2 charger. Remember that any modern 120V outlet can be used for trickle charging and add a few miles of range overnight. Just be sure to ask the property owner for permission first.

However, if all else fails and your battery does drain, EVs can be towed just like traditional cars. Many roadside assistance companies have EV-specific towing protocols to help you get back on the road as quickly as possible.
Time for an EV cruise around the Mitten?

If you're an EV driver, we are working to make sure your experience is reliable and powered by affordable, clean energy. After all, change is most effective when we all take meaningful steps to make it happen. With our Clean Energy Plan, the power we generate is cleaner than ever, all the way down to a vehicle with zero emissions.

Throughout our journey, we're keeping our fingers on the pulse of Michigan's EV use. That way we can ensure we meet energy needs both today and for decades to come.
Learn more about Consumers Energy's EV programs and the benefits of owning an EV in Michigan here.