Planet Award Drives Successful MUCC Watershed Project
Michigan is referred to as the Great Lakes State for good reason. It has over 36,000 miles of streams and more than 11,000 lakes and ponds. That's a lot of water. Just ask the Michigan United Conservation Clubs (MUCC) – the largest statewide conservation organization in the nation.

In 2013, MUCC started a program called On the Ground to clean up and preserve Michigan's natural beauty and resources. "We've had a pretty successful terrestrial version of habitat work where we coordinate volunteers all over the state called On the Ground, so that's where the idea for On the Water came from," said Shaun McKeon, Education Director.

In 2019,MUCC was awarded a $100,000 Planet Award from the Consumers Energy Foundation to support its On the Water (OTW) program, which helps Michigan residents connect with their waterways through stream and riverbed clean-ups, plus focus on education, outreach and recycling.

While OTW had a relatively short lifespan, "It will have long-term ecological benefits for years to come, leaving a positive and everlasting impact on the watersheds and communities throughout Michigan," said Emma Nehan, former OTW Coordinator/MUCC Staff.

Despite running into various obstacles, including a program pause due to COVID-19, OTW was overall a positive and efficient program. During the 18 months the program ran, more than 650 volunteers:
Removed 8,665 pounds of trash
Cleared 1,510 pounds of invasive species
Cleaned up 1,872 acres of watersheds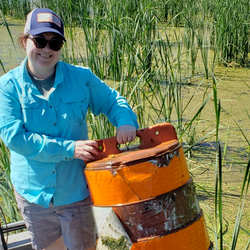 Once the Planet Award funding was fully utilized, they moved the OTW events into their existing "On the Ground" program with two to three aquatic projects included in the annual efforts. This year they completed a fish habitat structure building project in the U.P., as well as a river clean up on the Clinton River in April with one coming up in July on the Big Manistee. So, while the original On the Water program has ended, the MUCC continues to coordinate volunteers to come out and improve the habitat on Michigan's rivers.
"It was a great program, we saw a higher volunteer turn out for OTW than we do on average," said McKeon. "It seems like water is more accessible for people and we did it in areas that people were familiar with and connected to. The people in Michigan care about their Great Lakes, they care about their fresh water and that program gave them the opportunity to volunteer and make an impact in their communities."
The On the Ground program is a partnership with the Michigan DNR. "We coordinate projects with DNR biologists and staff and bring volunteers out to help get the work done," said McKeon. It also has received support from the Consumers Energy Foundation in the past.
Efforts include grassland restoration with sixth grade students to tree and pollinator planting and other wildlife habitat projects with school children. They also host weekend projects with the public. "We do five school projects each year and about 20 Saturday events where the public can come out and give back to the habitat and wildlife in Michigan," he added.
The On the Ground program recently celebrated their 200th event – and spent the day in the Manistee National Forest doing a pollinator plot around the Little Manistee River. If you are interested in registering for a volunteer opportunity with MUCC visit mucc.org/on-the-ground.
They also post their
events on their Facebook page
.