The Renewable Energy Revolution in Michigan: How Consumers Energy is Changing the Lives of Residents Across the State
We live in and love Michigan for all the great things it has to offer. Fishing, hiking, skiing, swimming, camping…well, you get it. We like to immerse ourselves in nature all year long. At Consumers Energy, we're dedicated to transforming our operations to create a brighter energy future that preserves the beauty of Michigan and ensures a love of the great outdoors is possible for generations to come.

We are proud to power Michigan for nearly 140 years and honored to provide electricity to over 1.8 million homes and businesses. We take this responsibility seriously, and also hold ourselves to the highest standards when it comes to protecting the lakes, fields and forests that make up Michigan's environment.

The combination of these responsibilities led to our Clean Energy Plan, which outlines how we will make the shift into renewable energy for Michigan while also providing reliable and affordable electric service. In the coming years, this plan will serve as a guide as we move away from fossil fuels and revolutionize renewable energy in Michigan.

As we navigate this change together with customers and communities, we plan to meet the ever-changing energy landscape and brighten our world with cleaner, less expensive sources of energy. In fact, in 20 years Michigan's natural wonders will play a key role in powering homes and businesses.
The Right Clean Energy Plan for Michigan
Our Clean Energy Plan is a 20-year roadmap that will allow us to be one of the first energy companies in the nation to go coal-free by 2025.

This step alone will improve air quality, cut down on greenhouse gas emissions by 60% and reduce water use by more than 220 billion gallons of water each year. We will be moving toward cleaner energy, with the goal of having 90% of our energy capacity coming directly from clean energy resources by 2040.
Harnessing the Power of Michigan
Hydro
One of our oldest environmental efforts started back in 1906 when we began building hydroelectric plants that operated along five rivers and throughout the state. Our 13 hydroelectric plants are still up and running at the dams on Michigan rivers. While these little powerhouses may not compete with the capacity of renewable sources today, they are a critical part of our long-standing commitment to cleaner energy. Just like all generation sources, we monitor and evaluate these sites to ensure they run safely, efficiently and economically. While the day may come when they no longer make sense to operate, we will manage the process with care and strong stakeholder collaboration.

A marvel of modern engineering, the Ludington Pumped Storage Plant is a significantly larger hydroelectric plant situated on the shore of Lake Michigan. Often referred to as one of the "world's largest electric batteries", its simple technology has allowed the plant to respond quickly to the highs and lows of Michigan's electric demand since 1973. With an enormous reservoir and near instantaneous startup, the plant helps keep rates low by avoiding expensive market prices when electricity demand is high and even saved the day in August 2003.
Wind
Michigan has been benefitting from clean, renewable wind energy since 2012. We currently operate four major wind farms: Crescent Wind in Hillsdale County, Gratiot Farms Wind Project, Lake Winds Energy Park and Cross Winds Energy Park.

Combined, these wind farms can produce enough clean, renewable energy to power about a quarter of a million households. Situated on productive farmland across 19,000 acres, these majestic sites can be awe-inspiring and extremely efficient.
Solar
Water and wind serve us well, but these days the power of the sun is the next frontier. We expect to add around 8,000 megawatts (MW) across Michigan by 2040. This solar expansion will prepare us for our final coal plant closure in 2025.

As we increase our renewable portfolio, we will leverage natural gas plants in the interim. While still a fossil fuel, natural gas plants are less expensive to operate and have superior environmental protections in place. However, our focus on solar is not only because it works and is less harmful to the environment, but also because it's quickly becoming cheaper than fossil fuel generation! While many customers have explored rooftop solar, the investment can be cost-prohibitive or unavailable to many customers. Since protecting our environment is a team effort, we're focused on providing renewables as the primary source of energy for all Michiganders instead of just for those who can afford rooftop solar.

Our existing Solar Gardens facilities, which are community-based projects that allowed customers to make an early switch to clean energy, have generated over 32,000 megawatt-hours of electricity since 2016. They alone offset enough emissions to produce about the same environmental benefit as more than 380,000 trees sequestering carbon for 10 years.

Solar sites are also giving second chances to previously abandoned land. For example, an old Cadillac manufacturing plant was redeveloped to house 1,752 solar panels across close to three acres of repurposed brownfield land.
Batteries
The sun doesn't shine at night, so we're also modernizing our power grid, increasing battery storage and providing tools to help customers use electricity when it's cheaper. This ensures we can still provide the energy needed for growing communities, adoption of more electric vehicles and extreme weather variations from climate change. The old system of building for a few high-demand days a year no longer makes sense with all the options available today. A more flexible strategy will allow us to respond to emerging needs, adapt to changes and embrace innovative, emerging technologies.
Electric Vehicles
A new area we are investing in as part of our plan is the expansion of electric vehicle (EV) infrastructure to protect the planet and support the auto industry, which has served as a backbone for Michigan's prosperity for generations. Our shared values of preserving our planet while providing critical services with more affordable options will drive us all toward a better future.

Currently we power more than 25,000 EVs, but by 2030 we plan to be powering one million on Michigan roads with public charging stations through special EV electric pricing and rebates to support at-home charging. Getting gas in the morning will no longer delay your day.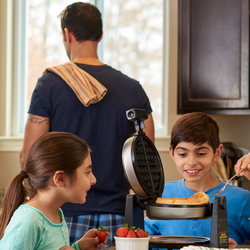 More Power in Customers Hands
We've been providing tools and resources to help customers save energy and money since 2008. This includes helping customers identify energy waste and develop energy 'life hacks' to save even more. It may seem counterintuitive for us to sell less of our product, but we believe everyone should only pay for what they need - and not for excess energy.

With every Michigander making small changes, peak use days can become a thing of the past and generation facilities will provide what's needed to power lives 365 days a year - not just for a few days a year when weather gets extreme.
Leading the environmental stewardship charge in Michigan
With current and planned generation sources, we have what we need to support Michigan's energy needs today and well into the future. But it takes a village to make the changes to bring this future to life. While more fossil fuels may seem like an easier answer in the short-term, the additional costs to build, run and maintain them is not the best option for Michigan or those who call it home.

The shift to renewable energy is necessary to protect Michigan's environment and preserve the lakes, beaches, rivers and forests we all hold so dear. Our Clean Energy Plan ensures our ability to provide reliable and affordable energy to customers throughout the shift.

We are committed to becoming a force of change for Michigan - from the fundamentals to the future. While we make the big changes, learn how you can join with small ones of your own at consumersenergy.com/change.