Working to Deliver the Energy You Need, Whenever You Need it. That's Our Promise to Michigan.
As Michigan's largest utility and one of the world's 10 longest running energy companies, our brand reflects our long, proud history of serving Michigan homes and businesses since 1886. Our brand promise is the consistent theme of everything we do to provide safe, affordable and reliable energy for the moments that matters most in Michigan.
Consumers Energy Brand Standards Book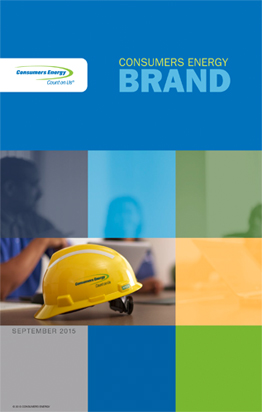 Our revised and comprehensive Brand Standards Book was created to answer many of the usage questions we get every day. The book includes correct brand guidelines to follow. Additional brand resources can be found below:
*When using logos, images and other brand assets from Consumers Energy, you agree to follow the standards and request permission prior to external use.
Thank you for helping us fulfill our promise to customers throughout Michigan. If you have any questions on the proper use of brand elements, please contact us: