In 1927, we extended a power line seven miles to bring electricity to farms in south-central Michigan.
At the time, the technology was new and not everyone was sold on the change. Only a dozen families initially signed on for service from the historic power line from Mason to Dansville.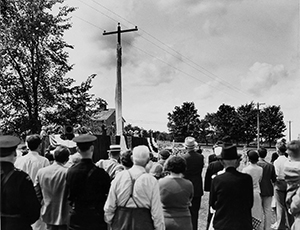 Those early adopters, though, reaped the life-changing benefits of electricity — everything from washing clothes to pumping water and milking cows got quicker, easier and cheaper. Their neighbors scrambled to catch up and, a decade later, our company had more than 10,000 miles of rural lines serving 40,000 customers.
Today, Consumers Energy and Michigan's farmers have another chance to change life for the better.
We're planning to add 8,000 megawatts of competitively bid, utility-scale solar power by 2040 — and
our plan
won't succeed fully without support from farmers.
Generating large amounts of solar energy requires significant tracts of land — between five and 10 acres per megawatt of electricity — that's flat, open and treeless with direct access to the sun. As we search for thousands of acres of land, we're considering potential locations such as farm fields — including those less ideal for growing crops — brownfield sites and state and recreational lands. What does this opportunity mean for Michigan's farm community? We understand what land means to farmers, many of whom have operated their businesses for several generations. While some may feel ready to sell their acreage, others may want to enter into long-term easement agreements so the property can return to agricultural use at the conclusion of solar energy production. In some cases, solar and agriculture might co-exist on the same property.
Our goal is to meet Michigan's farmers where they are to start a conversation about mutually beneficial solutions. Solar power can make the same positive and historic impact. I hope we can work together to create new economic possibilities for farmers and a brighter energy future for Michigan.