Sheep and solar energy – who would've ever thought this unique combo would be a match made in heaven.
But that's the case with the wooly good news over at Western Michigan University's solar garden as agriculture joins forces with renewable energy. And we aren't sheepish about the fact that thanks to this pilot program, in the end it will mean a sustainable future at the garden.
The sheer force of these 27 grass-fueled landscapers is exactly what the shepherd ordered at the 8.5-acre site. The four-legged creatures' primary task is to graze plant species around the 3,900 solar panels in between naps so they can digest their food and get back to work during the cooler times of the day.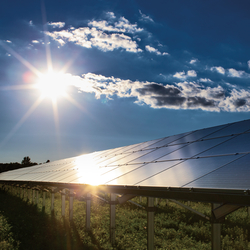 "Consumers Energy reached out to us last June (2022) to propose that we help consult them on building future solar site so they can be dual purpose and good for grazing," said Lauren Burns, who we contracted with for the pilot program through her business Tending Tilth LLC.
Josh Paciorek, spokesman for Consumers Energy said the sheep have created a positive buzz at the solar gardens.
"I'm so excited about what the sheep could mean for Consumers Energy's renewable future," he said. "And the sheep have had quite a following so far. Some of the staff at WMU bring their kids here to watch them. It's pretty cool to see."
The sheep might have just moved in, but they are making themselves right at home in their new digs. They flock together to take naps under the solar arrays and use them as shields from the sun beating down on them. And when Burns calls, they come without hesitation to work on their new segmented area.
Sheep are just the latest members to join in our mission to bring more solar to Michigan – 8,000 megawatts of competitively bid, utility-scale solar power by 2040.
And we've already begun adding more clean, renewable, solar-generated electricity for Michigan and plan to bring 1,100 megawatts of solar capacity online by 2025.
We're also searching for tens of thousands of acres of land for potential utility-scale solar projects. Considering potential locations such as:
The WMU Solar Garden was completed in 2016 and generates up to 1 megawatt of electricity. We also have solar gardens at Grand Valley State University and in Cadillac.
As of now, we are using this pilot program to see what improvements we can make to our other sites. We are exploring all types of vegetation management to get our costs as close to neutral as possible.
"Solar is the centerpiece of our Clean Energy Plan to meet Michigan's energy needs over the next 20 years while protecting the environment by eliminating coal and achieving net zero carbon emissions," said Paciorek.