Every Michigander deserves a safe, warm home this heating season – and we're committed to making that a reality for all our neighbors. While a Michigan winter is inescapable, we're here to help you prepare with a variety of assistance programs, budget options and energy saving solutions to get you through the cold months ahead.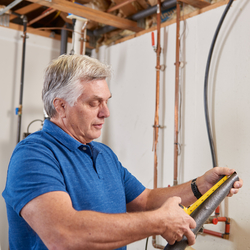 Whether you've sought help in the past, or if this is your first time in need of an extra hand, support is available right here in Michigan.
Financial Assistance: Free, private help is available to guide you through finding and applying for financial assistance in your community. They will connect you with local organizations that can help with energy and other bills, food banks, shelter and more. Visit mi211.org for live online help or call 2-1-1 or 844-875-9211 from any phone. A live person takes calls 24 hours a day (every day – including holidays). Bilingual resource specialists and translation services are available in over 180 languages.
Consumers Energy Budget Plan: Open to residential customers with past due balances up to $75, you can enroll any time for a consistent year-round payment. At the end of the year, whether you have used less energy than you paid for or more, we'll make sure your payment arrangement is correct.
Home Energy Analysis: Our free, in-home energy assessment is a great way to save energy and increase your comfort in every season. Just schedule an appointment, then an energy expert will give you a report of your home's energy use, along with simple ways you can save energy and money. And, with your approval, we'll install high-efficiency LED bulbs, faucet aerators, pipe insulation and more to get you started on your energy saving journey – all for free. Schedule your appointment here.


DIY Energy Savings? Be safe: To reduce your energy use and save money, use our cold weather tips. While we do recommend taking steps now to prepare for the next season's temperature extremes, if you are into do-it-yourself (DIY) solutions, please be safe.
As temperatures fall, and your home heating system use increases, Carbon monoxide (CO) poisoning becomes more of a concern. CO is an odorless, colorless, tasteless and deadly gas and symptoms of CO poisoning can easily be mistaken for the flu. Seek prompt medical attention if you think you may have been exposed and feel dizzy, light-headed, nauseous or have a headache. If you suspect CO poisoning, leave the area immediately and call 9-1-1. Knowledge is power - learn how to prevent and detect carbon monoxide poisoning.
Still looking for more ways to lower your energy bills? Last winter, our team sat down with MLive's Eric Hultgren to talk about the ways we're here to help our community members. To learn more, watch this vlog.