The year is quickly coming to an end, and we have so much to be thankful for – a celebration is in order! But that doesn't mean you need to empty your wallet to have a wonderful time with family and friends. You can have your pumpkin pie this holiday season and eat it too by following these energy-saving tips that will save you money as you prepare your end-of-year feasts!
Saving your "Dough"
While we spend many hours deciding what food to prepare, how we prepare it rarely factors into mealtime decisions – but research suggests it should.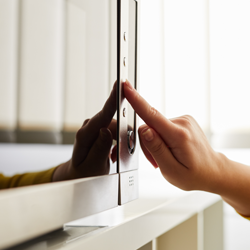 According to the
U.S. Department of Energy
, cooking accounts for 4 to 5% of a home's total energy use, not including refrigeration, water heating and dishwashing. Altogether, 15% of the average home's energy use occurs in the kitchen. That number climbs even higher during food-focused holidays like Thanksgiving & Christmas.
Now money isn't the only thing you can save this holiday season; reducing your energy use can also positively impact your carbon footprint. It's estimated that
homes and buildings comprise 13% of greenhouse gas emissions
in the U.S.
Another study
reveals that "residential energy use accounts for roughly 20% of greenhouse gas (GHG) emissions in the United States."
So how can you satisfy your appetite for phenomenal food and lower your electricity costs? Try these tips for more efficient ways to cook:
Glass is first-class – Because of their heat holding ability, glass and ceramic should be your go-to dishes. In fact, many recipes even suggest lowering your oven temperature when baking with glass.


A glass pie dish is ideal for your homemade pecan pie since it allows radiant energy to pass through and evenly bake the crust, giving the edges that perfect shade of golden brown. It's a win-win!


To heat or not to preheat – Ovens can consume a lot of power, so preheating the oven isn't necessary for recipes that need to bake for longer than an hour. Additionally, if your stovetop or oven is electric, you can usually turn it off 5-10 minutes before the dish should be done and let the residual heat finish the job. Just remember to keep the oven door closed or the lid on until the time is up.


This tip comes in handy when making buttery-smooth mashed potatoes; we promise they will still get nice and soft without a lump in sight.


Zap it or (use your slow cooker) – Don't underestimate the power of your microwave and other small appliances because they can cut cooking time and energy. For example, did you know the average toaster oven can use up to half the power of the average electric stove over the same cooking time?


Premade dinner rolls can become nice and warm in under a minute by tossing them into the microwave.


Let it thaw – Defrost foods in the refrigerator ahead of time or set them on the counter to keep oven preheating to a minimum. Let the temperature rise naturally by keeping your food on the counter for a few hours instead of using electricity to defrost it. Additionally, don't wait until the morning of to defrost that ten-pound turkey; let it slowly defrost to make your life easier.


No peeking – Did you know that every time the oven door opens, the oven temperature drops about 25 degrees? That means you are increasing your energy consumption every time you take a peek inside because the oven needs to regain that heat to reach the original temperature. If you are waiting for your dish to reach a specific internal temperature, use a thermometer with a cord that can stay inside the oven. Some even come with a timer to let you know exactly when you reach the right temperature!


Put your dishwasher to work – If you have an energy-efficient dishwasher, use it. Dishwashers are about five times more efficient than hand washing. Consumer Reports says you can skip the pre-rinse with newer models if you're washing dishes right away, and those savings add up to 6,000 gallons of water a year. Want more savings? Let your dishes air-dry instead of making your dishwasher do the work. Just think about the time you save by not scrubbing off bits of green bean casserole.


Check the guest list – There is no need to cook for an army unless they're sitting at your table. By checking the headcount of your guests, you can prepare the appropriate amount of food so that everyone can be stuffed to the brim without wasting any food. On average, families throw away $1,500 in food each year, don't let that be you! Rather than toss leftovers, split and freeze them for ready-made meals.


Make time to chill – Before putting your leftovers into the fridge or freezer, give them time to cool off. Placing warm foods into the fridge can add additional heat that your fridge will have to work overtime to compensate for and add more costs to your electricity bill. Plus, according to nutritionist Dr. Anju Sood, studies show that putting cooler food might preserve nutritional value compared to putting hot food directly in the fridge.
Consumers Energy is focused on sustainability and reducing our carbon footprint, and we are here to give you tips that can help you do the same (while also saving money!). Follow us for ways to live sustainably and learn how our Triple Bottom Line – People, Planet and Prosperity – commits to helping the planet. You can also read more about our efforts in our
Clean Energy Plan
.