When Glanbia Nutritionals was ready to build their new cheese and whey protein plant, MWC, they contacted our team to learn how the plant could be constructed with energy efficiency in mind. The result was more than the initial project that helped Glanbia reduce operating costs; it's an ongoing partnership that continues to explore energy efficiency measures and advances Glanbia's sustainability goals. To learn more, we spoke with MWC Site Director, Manish Paudel.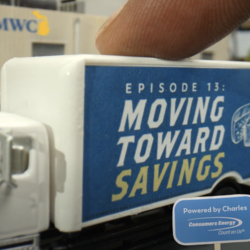 Located in St. Johns, MI, MWC is a joint venture of Glanbia Nutritionals, Select Milk Producers Inc. and Dairy Farmers of America. "25% of all the milk produced in the state of Michigan comes through our facility," says Paudel. Processing that quantity of milk requires a massive amount of energy. But, with energy saving efficiency upgrades like temperature automation, heat recirculation, and variable frequency drives, MWC has been able to reduce costs while staying on track for their sustainability goals.
Glanbia is committed to reducing their carbon emissions by 50% by 2030 and to reach carbon neutrality by 2050. The goals are aggressive, but Paudel is convinced MWC is working with the right partner. "Consumers Energy is probably one of the best partners that we have worked with," he says. "The relationship has continued for several years now. Our Energy Solutions Manager is always there to answer our questions, to talk through options and look at future projects with us." On top of world class service, MWC has received nearly $5 million in cash rebates through our energy efficiency program.
To inspire other businesses to explore energy efficiency, Consumers Energy invited Paudel to tell MWC's story as part of their 'Powered by Charles' video series. "It was new to me, being on camera like that, but it was fun to be a part of it. And it was a good chance to share what we've done with Consumers Energy and the impact it's had on our energy costs and our emissions goals." Check out the video here to see Charles and Manish in action.
We asked Paudel if there was any advice he would give other businesses looking to be a part of something bigger for themselves and for Michigan. He had this to share: "I would tell any business to keep innovating, keep looking for the next measures you can take to increase your energy efficiency. And if you operate in Mid-Michigan, be sure to reach out and make Consumers Energy your energy partner."
Visit our Business Energy Efficiency page to learn more about how your business can cut costs while pursuing your sustainability goals.