Considering an electric vehicle? Don't let cold weather worries or other common misconceptions prevent you from making the switch.
Electric vehicles (EVs) are the future – and they benefit every Michigander whether they own one or not. They support Michigan's economy through major auto investments and new job opportunities, they reduce driving and fueling costs and help keep the energy grid efficient with overnight charging.
But even with more Americans purchasing EVs than ever before, there are a few common misconceptions that often give potential buyers pause. We're breaking those down here.
Why you shouldn't be concerned about driving an EV in wintry weather.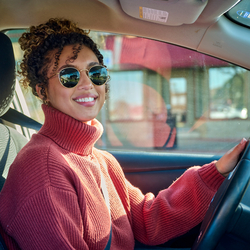 People often express concern about the effects cold temperatures and snow can have on electric vehicles.
The truth is the cold Michigan weather impacts all vehicles – gas and electric – and your driving experience no matter what you drive. Most people are surprised to learn there are some benefits to driving an EV during the winter.
First – EVs are heavier than a traditional gas vehicle for obvious reasons – the battery. Typically, the battery layout lends itself to an even weight distribution, and that paired with a good set of snow tires will lessen the chance of losing control on a snowy road. Second – no more cold starts or idling, which makes EVs more energy efficient when it comes to preheating your cabin. You can even start warming your fully electric vehicle while it's still charging, so you're hopping into a cozy car without affecting range or burning "fuel" waiting for your vehicle to get warm.
And what about range? It's true, cold weather will temporarily reduce your battery range. But for daily driving within the range of the vehicle combined with overnight home charging, you probably won't even notice a difference. And any range loss or cold weather impact is only temporary. There are no long-term impacts to your vehicle.
So just like with a traditional gas vehicle, there are things to consider and things you should be doing to prepare for winter driving. We have some tips to help keep your EV charged up and ready to go during the winter season.
Another thing we often hear is the energy grid can't handle the demand for electric vehicles.
There's a common misconception that everyone switching to EVs would put a huge strain on our energy system. This is simply not the case.
Sure, electric vehicles will boost the demand for electricity. But a 100% shift to EVs will take more than a decade and increase demand by about 10% – which our grid can handle without issue. The energy grid is built to provide enough power for the hottest days of the year when air conditioning units are running full blast, so it has a lot of room to power up EVs overnight, for example, when lights and A/C units are turned off.
That's where cost savings come in. Incentivizing customers to charge overnight when there is less demand on the grid not only prevents strain, but it also saves EV drivers money by charging when electric rates are cheaper. It also eliminates the need to build new power plants to generate electricity – and those savings are passed on to all customers whether they drive an EV or not.
Our vision for EV drivers is simple.
We're committed to making home charging easy and affordable, but also keeping the energy grid operating efficiently and reliably for every customer. Through our PowerMIDrive program, we'll continue to reward EV drivers with rebates and incentives for charging overnight.
And we recognize there is a huge learning curve when it comes to electric vehicle adoption, and we want to be a trusted, reliable source of EV information for our customers. Even if that means sharing opportunities outside of Consumers Energy where customers can self-educate. And there are plenty of opportunities. Like National Drive Electric Week (NDEW) coming up in September. This is a great opportunity to learn about driving electric from actual EV owners and maybe even get a little hands-on experience of your own.
National Drive Electric Week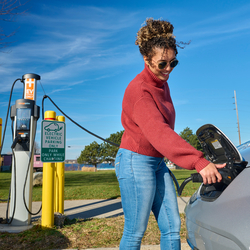 NDEW takes place from Sept. 22 – Oct. 1 and is a nationwide celebration to raise awareness of the benefits of all-electric and plug-in hybrid cars, trucks, motorcycles and more.
Now in its 13th year, there are hundreds of registered events across the U.S. with several right here in Michigan. EV drivers love to show off their vehicles, so imagine a car show environment. You'll typically find a wide array of plug-in vehicles and possibly stumble across a Ride & Drive or two. Getting behind the wheel or just talking with actual EV owners is the best way to experience driving electric.
Events are always free – and more are being added each day. Visit the Drive Electric Week website to search for an event near you.
No matter where you're at in your electric vehicle journey, we can help. Learn more about driving electric, browse vehicles, discover incentives, compare electric rate plans or connect with one of our EV specialists today.